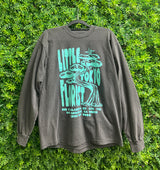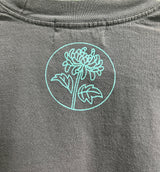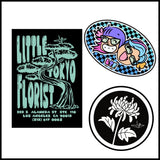 CRFT by Maki X Little Tokyo Florist Hiyaku Pack
CRFT by Maki and Little Tokyo Florist join forces again with merch to follow up our Sake Stem Bar series. Little Tokyo Florist, formerly Kuragami Florist, hosts new owners Yuka and Malina at the same iconic old Yaohan Plaza. 
After almost 4 decades, they were hand-selected by Masami and Mary Onoue to carry on and add their own flair to the legacy. CRFT by Maki is excited to continue to collaborate with our neighborhood buddies on this Hiyaku set. Pick up event will be on December 17th for your tee, sticker pack, and Little Tokyo Florist special bouquet. For those who may not make it, the long sleeve tee is available for shipping without the flowers. 
This set includes:
Long Sleeve CRFT by Little Tokyo Florist Tee
3" Little Tokyo Florist sticker pack 
December 17th pick up event
This is just for the shirt and stickers only, shop the entire pack with bouquet here