Was recently featured in VICE for their Munchies X Japanese Craft Beer campaign. Take a look
here
to read on other movers and shakers making an impact in the community. Photos shot by the homie Zen Sekizawa, for Back the Future Day (October 21st) we had to hit you with the Air Mags and hoverboard.
—
The Designer Inspired By the Past, Present, and Future
Darin Satoshi Maki Makes Menswear That's Built to Last
Professional basketball player. Independent filmmaker. Fashion designer. Los Angeles-born Darin Satoshi Maki has built an exciting life based on wildly different passions, all of which intersect in one goal: telling the story of the Japanese-American experience. As a basketball player, Maki left the comforts of home and became a Japanese citizen, spending 10 years playing professionally in Japan, for teams like the now-defunct Tokyo Apache team under coach Joe Bryant (also known as Kobe's dad). His short films paint a vibrant picture of L.A.'s Japanese-American community, showing everything from J-Town hip-hop parties to the detailed craftsmanship of local bakers. Lately, however, it's fashion that Maki is most focused on. He launched his line, CRFT by Maki, in January; it makes sportswear and accessories with a clean, simple aesthetic.
We spoke to Maki about his passion for sports, how he earned his spot, and why he believes making something new helps preserve his heritage.
On how CRFT by Maki came to be.
Fashion has always been a part of my life. When I was younger, I couldn't afford all the designer clothes, so I just started making my own on my mother's sewing machine. I'd worked with a streetwear brand in Tokyo; after retiring from basketball and corporate life, I launched CRFT by Maki in January 2018. I've always been attracted to animal logos, so [for ours I chose] the origami crane, which I feel is globally recognizable as Japanese.
On playing basketball all across Asia.
I started playing basketball when I was 8, but I didn't realize I could make a career doing so until I was in college. The Japanese national team came to L.A. for a training camp [while I was in school,] and we had a few friendlies against them. That was the Yuta Tabuse era—he was the first Japanese NBA player—and at the time he was also playing on the Japanese national team. I did really well and the coaches approached me and told me I should come to Japan to play. I went out there when I was 19 thinking I could turn pro, but in the 11th hour it fell through because even though I was Japanese, I didn't have Japanese citizenship. So I came back to the States, played for and graduated from Cal State at Dominguez Hills, then went back to Asia. There, I played in places like Vietnam, China, and Hong Kong, and during that time I was spotted by a scout who he told me I could get citizenship through my father, who was born in Japan. So I went back to Japan again, and started playing there.
On some of his early influences.
My parents are definitely my heroes. They come from very humble beginnings. My father is from Kagoshima and my mother from Crenshaw—they built a life from scratch, and their hard work has always inspired me. They really pushed me to follow my dreams no matter how crazy they thought they were. In terms of basketball, I was a big fan of Spud Webb because he was the shortest guy out there dunking, and Wat Misaka was especially a huge influence on me. Wat was the first non-white professional basketball player to be drafted into the NBA, and he was Japanese-American. I wanted to follow in his footsteps, and meeting him was a highlight for me.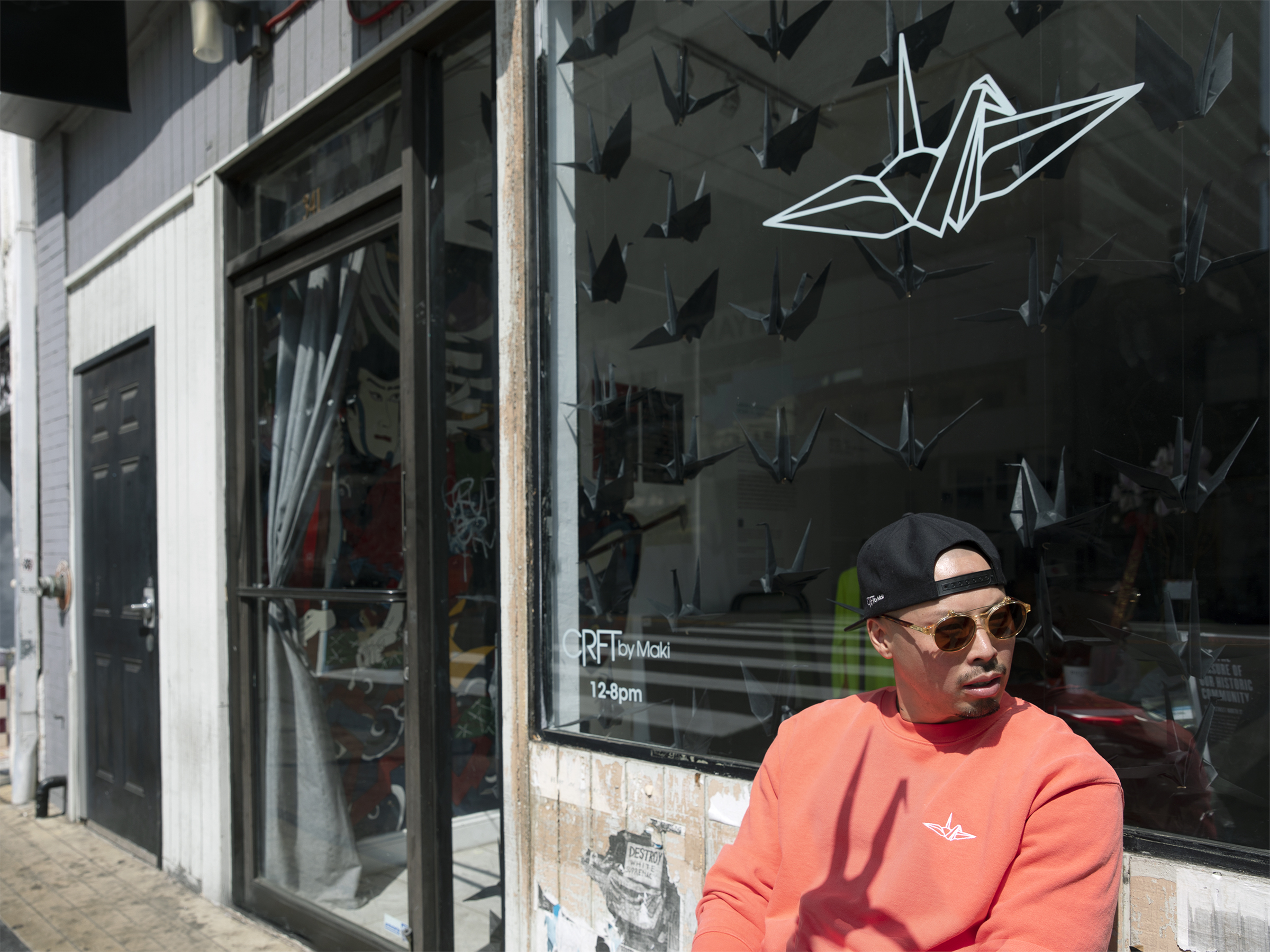 On capturing diverse stories of the Japanese-American experience.
The Japanese-American experience is pretty unique and the stories you hear are usually about the concentration camps. Those stories and films are very moving; however, my approach is to share the experience of what Japanese-Americans are doing now, and what's in store for the future. I'd love to inspire our community while encouraging the entrepreneurial spirit of young people through my brand. We are survivors; I'm just trying to do my part to bring those stories to life.
On what's next for the Japanese-American community in Los Angeles.
[Our] community has a very long history in Los Angeles—we are fifth and sixth generations in now, and have been completely absorbed into American life. On the flip side, we've have lost our ability to communicate in Japanese. That's a significant element to the culture, and I believe we should all consciously try to sustain that. It's been a year since I returned to L.A., but every time I'm in Little Tokyo I'm glad to see all the organizations fighting to preserve our heritage, and I want to contribute however I can.
I'm really excited about the 
Terasaki Budokan
 gym that will be completed in Little Tokyo in 2020. It's pretty significant because, in a way, basketball helps keep the Japanese-American community together. I am a direct product of those sorts of Japanese-American basketball leagues, and it will be great that future generations will have a place to call home.
VICE x Japanese Craft Beer
This series is a partnership between VICE and Japanese Craft Beer devoted to featuring Japanese-American artists and activists who are working to amplify the influence of Japanese culture in the United States. Japanese Craft Beer is an industry association of 22 Japanese craft breweries all devoted to increasing awareness and promoting Japan's unique brewing methods and harmonious craft. You can follow them on Instagram and Facebook.